"Would You Fail This Test?"

How You Can Turn A $95 Weekly Income
From Your Web Site Into $13,494 A Week Or MORE
FAILING 50% Of The Time...

This FREE report reveals the secret weapon
13 leading internet marketers use to multiply their profits...

By Frank Bauer

Software Designer and Director of Add2it.com Marketing Pty Ltd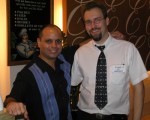 Mike Filsaime & Frank Bauer

If you start using the powerful method revealed in this report every single dollar you make online can multiply into $2, $10 even as much as $142.04.

I know it sounds outlandish but this is the exact same method every internet marketer from Mike Filsaime to Derek Gehl uses to guarantee their online profits.

I've been selling my marketing software scripts online at add2it.com/au for six years, making a full time living for over four years now.

I've spent a lot of time speaking and listening to many of the heavy hitters online like Mike Filsaime, Stephen Pierce, Derek Gehl, Mike Steward, Armand Morin, Mark Joyner, Alex Mandossian, Frank Kern, Patric Chan, Kirt Christensen, Tom Beal, Donna Fox and Paulie Sabol.

I can tell you they ALL use powerful software to guarantee every single dollar they spend on advertising earns them $3.77 or MORE in return.

They use that same software to decrease their marketing expenses by up to 90% while they INCREASE their sales.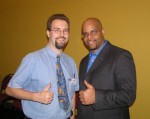 Frank Bauer & Stephen Pierce
All of these highly successful online marketers share one key secret to making real money online.
That secret is tracking and split-testing!
If you're like most website owners you're NOT tracking and testing and it's costing you real money every day.
Do you really know where your sales are coming from? Do you know how much every new sale costs you?
Can you pinpoint exactly where you should keep spending your advertising dollar online and where you can safely stop wasting money - leaving you more cash to spend on the advertising that does work?

Have you split-tested different headlines, images, offers, calls-to-action and payment plans on your sales and opt-in pages?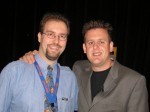 Frank Bauer & Derek Gehl

Let me explain why tracking and split testing is vital in your online business...


Every small improvement you make in your online copy, advertising and your whole online sales process increases your turnover.

That's obvious.

But what the heavy hitters in online marketing have discovered is every one of these small improvements MULTIPLIES on the other.

Split testing and tracking is the big secret Derek Gehl and the Internet Marketing Center used to turn a paltry $25 into over $54,700,000 in online sales.

Yes that's fifty-four MILLION dollars. Derek Gehl is legendary in the internet marketing world for his FANATICAL split-testing and tracking.

If you'd like an online business that does 54 million dollars in sales or even just a few hundred thousand dollars in sales split testing and tracking is something you MUST do on your websites.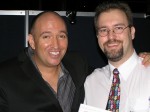 Mark Joyner & Frank Bauer
The good news is that you can now split test and track without putting in a lot of effort...

Imagine you were making just $95 a week from your website and you wanted to follow the lazy man's path to online riches.

Let's say you decided to keep your effort level to a minimum by split testing just one factor every week - like 2 different headlines or two different images on your sales page.

Then the next week you'd split-test something else.

In each of those weekly tests you identified a headline or a slightly cheaper source of pay per click traffic or an image change that increased your response by just 10%.

So the first week through effective testing and tracking you'd increase your turnover from $95 to $104.50.

$95 x 1.1 = $104.50.

Now here's where it gets exciting - even if you're a lazy internet marketer.

Every one of these improvements is exponential - they don't add they MULTIPLY.
See the great tips on the topic of Split Testing & Ad Tracking that the Godfather of Internet Marketing, Mark Joyner, shares with you in this interview...
Watch how your online income soars from those tiny weekly improvements...

From $95 A Week To $13,494 A Week In 12 Months...
If you invested just 6 months tracking and split testing one tiny improvement a week you'd have a total of 26 small, incremental improvements to your online business process.

Your online turnover would increase by 10% a week for 26 weeks...

That's $95 x 1.1 x 1.1 x 1.1 x 1.1 x 1.1 x 1.1 x 1.1 x 1.1 x 1.1 x 1.1 x 1.1 x 1.1 x 1.1 x 1.1 x 1.1 x 1.1 x 1.1 x 1.1 x 1.1 x 1.1 x 1.1 x 1.1 x 1.1 x 1.1 x 1.1 x 1.1 =
$1,132.26

Your Small Turnover Of Just $95 A Week Expands To $1,132 A Week.

If you continued making these small improvements - one every week - each multiplying upon the other...in just 12 months you'd be making $13,494 every week...

All from one web site that was only making you $95 a week before you started tracking and split-testing.

And since you'd be testing two different factors against each other every week that means half would be losers in the testing game.

You'd be cleaning up while you were FAILING 50% of the time!
This is a simplified example and you shouldn't expect the numbers to be as smooth as this.

Some tests will give you smaller improvements and some tests will give you HUGE improvements.

For example just changing the headline on your sales page can increase your sales by 50% to 400% or more!

Can you see now how simple it is to create a fantastic income online when you're testing and tracking everything you do?

Can you see how you could start with a very modest online income like $95 a week and skyrocket to $1,132...$13,494...even $54,700,000 in onlne sales?

But even more important...

If you're NOT testing and tracking all your online advertising and conversion then every change you make and every piece of advertising you pay for could be COSTING you money and you'd never know.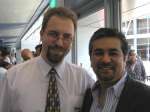 Frank Bauer & Armand Morin

In fact if you're not split-testing and tracking now parts of your online advertising ARE costing your money.


The question your Go-To split testing and tracking system will help you answer is which advertising sources and pay-per-click keywords you should keep and which you should dump.

Just eliminating your ineffective, money-sucking advertising (like non-paying pay per click keywords) and spending more on the advertising that IS effective can dramatically increase your online profits - often overnight.

Now I know what you're thinking.

You just don't have the time or the expertise to create a powerful online testing and tracking system.

And you don't have thousands of dollars to invest in on a high end system that really lets you know how well every advertising cent you spend is working for you.

Well I have great news for you.

I'm going to let you in on the lifetime membership deal of the century.

For a limited time I'm GIVING you lifetime access to the super-powered split testing and tracking system I use myself for a ridiculously low one-time membership fee of just $9.97.

Watch this video from highly respected internet marketer Martin Salter. He says I'm just plain crazy offering you this top-of-the-line system for less than ten dollars...

"It's An Unbelievably Low Price!"


- Martin Salter, Owner of PrizeDrawGenerator.com


Click Here And Claim Your Lifetime Access For Just 9.97!


This is THE top-of-the-line testing and tracking masterpiece it took me five years to create - your Add2it Go-To System.

I wrote every line of code and invested over 330 solid working hours making this split-testing and tracking membership system work like a well oiled machine.

Before the Add2it Go-To System was available, you had to buy expensive software, written in a cryptic programming language like PHP or Perl, mess around with things like MySQL, install them yourself on your web server or hire somebody to do that for you.

Unless you're a major computer geek you'd be bald inside a week from pulling your hair out just trying to get a system like this up and running.


But now, you can get started split testing and tracking like the online marketing pros in just a few short minutes.

And you don't need to know any fancy code, PHP, Perl or MySQL.

This tracking system is designed so a 10-year-old-girl could use it...





"...simple and easy to set-up..."

"Jason James from Membershipriches.com. What an amazing job you have done with Add2it Go-To System. It's clear as day you worked your butt off on this product to make it one of the best of it's kind. This system should be required for ALL Internet marketers new and old alike. It truly is a one-stop solution for ads, visitors, clicks, sales conversion tracking & split testing. Plus you make it simple and easy to set-up with all your step-by-step video tutorials. I know this much, this product will increase my sales and decrease my advertising costs."

- Jason James, Owner of Membershipriches.com
Best of all...

I'm GIVING you full lifetime access
to your Add2it Go-To System membership account
for just $9.97...

Yes you read that right! Membership to my split testing and tracking system would normally cost you $119.64 a year.

If you hired a software programmer like me to make the software in the Go-To System for you the 330+ hours it took me to design this system at just $50 an hour would set you back $16,500 or more.

But if you act right now you'll pay a one time fee of nine dollars and ninety-seven cents for lifetime access to the best split testing and tracking system online today.

And you'll be joining some of the most savvy online internet marketers like Graeme Salter from FreshWebContent.com...
"A Must For Any Serious Internet Marketer..."

"My site contains over 15,000 articles in English available for download. It has the same number again for each of 8 other languages. Given this volume there is only one to keep on top of what is happening with ads and various promotions - and that is ad tracking.

When this is combined with split testing you end up with better ads and better placement resulting in higher (Click Through Ratio) CTR which in turn leads to higher income. These two methods are a MUST for any serious internet marketer."

- Graeme Salter, Owner of FreshWebContent.com
Click Here And Claim Your Lifetime Access For Just 9.97!

Your $9.97 Lifetime Access To The Add2it Go-To System Includes...
A complete overview of ALL your traffic sources and essential statistics in real time...

Protection for all your affiliate links from commission hijackers...

Shorter, protected tracking URLs. No more long, unwieldy links to send in emails.

Sophisticated tracking so you can see how well your website or opt-in page converts visitors to sales...


Tracking, managing and editing for multiple promotions...

You'll be able to track your Return On Investment (ROI) from online AND offline promotions. You'll be able to see at a glance which traffic sources are making money and which aren't.

You can double, triple and quadruple your conversion rate with the built-in split testing system...

Read what leading affiliate marketer Rosie Shiver says about the Add2it Go-To System...


"The split testing alone can ramp up your profits..."

"The Add2it Go-To System will knock your socks off! It truly is WYSIWYG and has more features than any other tracking system I've seen. The one-click features and ease of use makes the Go-To System the best ad tracker/split tester for the serious marketer.

For the Results Tracker I've used you must switch between two windows and two different frames. Go-To System does the job all in one window.

And just wait until you get your hands on all the freebies Frank Bauer hands you with the Go-To System! You've probably seen them elsewhere selling for $97 to $297. Those scripts are bundled right in with the Go-To System!

You NEED this system. The split testing alone can ramp up your profits quite quickly. You can help ensure you get treated honestly as an affiliate by tracking your ads and sales progress with the Add2it Go-To System."

- Rosie Shiver, Affiliate Marketer



And that's just the beginning...

For Just $9.97 Your Add2it Go-To System Will Revolutionize Your Online Business...

This system will help you multiply your online income and SLASH your workload in the process...
You'll see at a glance which ad campaigns actually work and how many people come to your website or squeeze page from each source of traffic.

You can set up "rotating links" with an unlimited number of URLs. You'll be able to send traffic from the same source to different landing pages, sales pages and order pages, test the results and choose the pages that make you the biggest profits...

Your Go-To split testing system tracks visitors, sales, actions, subscriptions, clicks, conversions and more...
And as you become a more sophisticated marketer your Add2it split-testing and tracking system will grow with you. You can...

Calculate your Cost Per Click (CPC), Cost Per Sale (CPS), Cost Per Action (CPA) and much more for each one of your traffic sources.

In plain English this means you'll know where every cent of your advertising dollar is going. You can see at a glance which advertising and keywords you should keep and those money-sucking advertising sources you should dump.

Think about what this means! In just one day you could save more than the entire $9.97 price for lifetime membership by getting rid of online advertising that isn't working for you.


Analyze your Click To Sale (CTS) and Click To Action (CTA) conversion ratios. This is a highly sophisticated, powerful way of tracking the results you're getting online.

If you understand these terms you know how fantastic it is to have this kind of tracking and analysis built in to your split-testing and tracking system.

If this is all just Greek to you you'll be happy to know you don't need to understand any of this technical jargon to get started...

Your Add2it Go-To System is designed so ANYONE can use it with full step by step online video tutorials and support.


You'll have full access to the most powerful split-testing and tracking system on the market today for a one-off lifetime fee of just $9.97.

Just $9.97 For Lifetime Membership - Where's The Catch?
You might be asking yourself, why am I willing to GIVE you lifetime access to my $16,500 state-of-the-art split-testing and tracking system for this tiny one-time $9.97 fee?
I have two very good reasons...

1. Once you get started Split Testing and Tracking with your lifetime Add2it Go-To System Silver Membership I know you'll see your online profits increase.

You'll be making more money and you'll want to set up more websites and a whole pile of split-testing and tracking projects to supercharge the profits from those websites.

Your lifetime Add2it Go-To System Silver Membership allows you to manage up to 20 campaigns, which should last you quite some time.

But when you really start building more and more hugely profitable web sites I know you'll want to upgrade to the reasonably piced Gold or Platinum Membership levels so you can run hundreds or even thousands of campaigns.


2. I need more testimonials and success stories from thrilled clients about the value of this fantastic tracking and split-testing system.

So I'm giving you a service worth $119.64 a year in real value for a one time $9.95 lifetime fee.


And to PROVE I'm genuine I'll even give you a 100% money back guarantee on your tiny $9.97 outlay...




My Guarantee

100% "Better-than-risk-free" Guarantee:

I'll give you a full 30 days to test all the incredible features of your Add2it Go-To System Membership. If you're not positively thrilled I insist on giving you 100% of your money back -- and you can KEEP $495.00 worth of FREE bonuses as my gift for your trouble!

With my iron clad guarantee you get a completely risk free 30 day trial and even if you decide it's not for you you'll come out ahead with $495.00 in fantastic bonuses.





PLUS if you act now I'll give you $592 in valuable gifts including...


Your $97.00 Bonus ScreenCam Videos Tutorials...You Can Get Started Tracking And Split-Testing Immediately

You'll get started FAST with full online video tutorials on...

How to track clicks, visitors and actions on your web sites...
Step by step instructions on how to split test on your web pages...
How to split test a Butterfly Marketing template page...
How to create rotating links...
And more...
Everything is laid out for you step by step in your valuable online video tutorials.

I'm also going to give you a chance to make some real cash profits with your $9.97 lifetime membership with...



Huge Commissions Earn Up To 65% Commissions On The Add2it Go-To System Range Of Products - Including High Priced "Backend" Products!
You'll have a license to promote my full range of high quality, high converting software and product packages...
You can "clean up" with my very generous commissions on these packages and even get paid even more commissions for higher priced backend upsells engineered into my sales pages.
Best of all I'm going to give you...



Your $495 Gift Surprise Bonus Package With High Value Software Ebooks Audio And More...

I've been running online businesses since 1996 and over that time I've amassed a HUGE range of resale rights and master rights to software, ebooks, audio and more.

I'm going to GIVE you 7 surprise bonuses worth over $495 including software, ebooks and audios from leading online marketers like Mike Filsaime, Russell Brunson, Alex Mandossian and Jim Edwards...
Your $495 of surprise bonuses includes full resale rights for products in the $47 to $97 range...
You can sell these products and keep 100% of the profits for yourself!
If you sell just ONE product you'll make back many times your one-time $9.97 investment...

With fantastic deals like this you can see why leading internet marketers RAVE about my prices...


"Great Deal! I'm Most Impressed With The Quality, Service And Reasonable Prices..."

"I am most impressed with the quality, service and reasonable prices at Add2it.com. Frank is a sharp guy with the rare ability to blend technical "stuff" with marketing "smarts". Great deal!"

- Randy Charach, Publisher of RandyReport.com


So if you act right NOW you can claim...


Your $711.64 Package For Just $9.97 Including...

1. Your full online split testing and tracking system worth $16,500 and normally charged at $119.64 a year...

2. Your Screen Cam online split-testing and tracking video tutorials worth $97...

3. Your license to earn up to 65% commissions on the full range of Add2it Go-To System products and services...

4. Your surprise bonus package including resale rights to several products worth $495...


A grand total of $711.64 fantastic value for a tiny one time fee of just $9.97.

One last thought...

Every day you're NOT split testing and tracking you're throwing away real money including today!

Why not STOP the drain and turn that money you're losing into powerful online income that multiplies week after week into the thousands, hundreds of thousands, even millions of dollars.

If you want to play with the "big boys" online and make the money they do you need to use the equipment they do.

Now for $9.97 you can...



If you have any questions about the Add2it Go-To System I'd love to help you out. Feel free to contact me any time.

To your success,



Frank Bauer
Director of Add2it.com Marketing Pty Ltd & Founder of GoTo-Pro.com


PS: You must act NOW to claim $9.97 lifetime membership to your Add2it Go-To split testing and tracking system.

The price of this system will be going up to $9.97 a month in the next few weeks - possibly in the next few days depending on when you're reading this web page.

I know how hard it is to get started making money on the internet and I'd hate to see you miss out on this $9.97 lifetime deal.

That's why I've put together this package worth $711.64 designed to help you make real online profits...

But if you come to this site in another week or even another day it's almost certain you'll have to pay many times this bargain $9.97 price.





"... a must for all serious marketers."

"Thanks Frank, Your system has incredible value for 10 bucks. I mean, if you are advertising or doing email promos, and you are not split testing, you are losing money. You have an incredibly easy system to use for people lacking technical expertise and your system is a must for all serious marketers. Thanks again."

- David Cheyne, Owner of ListBuildersDream.com
Privacy and Security Guaranteed
We take the privacy and security of your information quite seriously. We are audited by ScanAlert regularly to verify that our privacy and security measures are state-of-the-art. Further, we are a merchant many years in flawless standing with PayPal and 2Checkout. We provide top-notch live 24 hour customer care to protect that status, and more importantly, to protect the trust you, our customer, have placed in us.